HARDOX
HARDOX is a wear-resistant alloy-steel sheet material with a particularly homogeneous composition and constant hardness and is produced by the Swedish steel producer SSAB since 1974.
HARDOX has unique characteristics. The combination of hardness and toughness makes HARDOX successful and highly sought after by constructors. In addition, HARDOX is known for being easily shaped, as well as allowing for easy cutting and welding. HARDOX is available in thicknesses of 0.7- up to 160 mm.
The new, smaller thicknesses provide even greater opportunities for light, wear-resistant structures. As a HARDOX WEAR PARTS CENTER, Geha Laverman has the most common thicknesses and qualities in stock and can therefore supply quickly. Geha Laverman delivers its HARDOX products on demand with 3.1 material certificate.
At Geha Laverman in Zaandam, the largest HARDOX WEAR PARTS CENTER of the world(!), many tons of HARDOX of various quality and sizes are processed into semi-finished or finished products every day.
These products are called HARDOX WEARPARTS. We are constantly looking for the best solutions to your wear problems. Years of experience combined with extensive manufacturing capabilities help ensure that the high quality wear parts have a very short delivery time.
HARDOX WEAR PARTS CENTERS offer advice and help to find an improved solution to your requirements and will produce and deliver. Fitting is often done by the user, but Geha Laverman also has service facilities through its partners. Geha Laverman delivers HARDOX WEAR PARTS across Europe.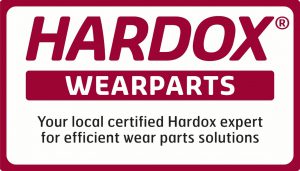 SSAB continuously updates its materials, thereby constantly expanding the number of applications. Besides wear-resistant HARDOX, SSAB produces high strength steel under the brand name STRENX, the engineering and tool steel TOOLOX and the bulletproof armor plate ARMOX.  DUROXITE
As no other, Geha Laverman knows how to match the type of HARDOX to the field of application.
More information on the other material qualities of SSAB can be offered on request.
HARDOX has many applications. Where materials suffer wear and tear, sustainable products are needed. Geha Laverman can fabricate any wear part in virtually any desired shape.
HARDOX is used in many branches of industry, but also in mining, quarrying, and in sand mining companies. It is also found in equipment for cement, concrete and asphalt production, energy production, steel production, recycling, handling, agro-technology, forestry, fisheries, offshore and civil engineering.